It is my mission  to invite you to fully awaken the greatness in your body and to give you a solid sense of well-being in every corner of your cells.
Yoga has many physical and mind-related benefits which have now been scientifically proven. Things like less stress, reduced medication, greater flexibility, improved circulation, or a stronger, healthier body. These are some of the truly amazing benefits of yoga.
The true reason for the ancient yoga tradition is the reuniting of mind, body and breath through movement. In doing so you include all your resources and enhance the ability to infuse your invisible Soul Spirit into your physical body.
I wish for your all profound Self Awareness. One that is anchored into your body based on knowing the truth of who you are and not based upon the conditions of your external world.
Namaste
Time to melt your worries – heal and be deeply connected to your soul and others.An opportunity to cultivate our physical and emotional well being – and stay connected!
JOIN OUR MONTHLY
YOGA IMMERSION
I am designing monthly sessions for you to immerse into the depth of body & spirit.
The classes are slow and restorative with a specific focus on breath – meditation and relaxation.
Coming dates 2023:
January  14th
February 18th
March 11th
April 22nd
June 17th
Time:
10am – 11.45am GMT / 11.00-12.45 CET
Payable by Revolut or Mobilepay (for danish participants).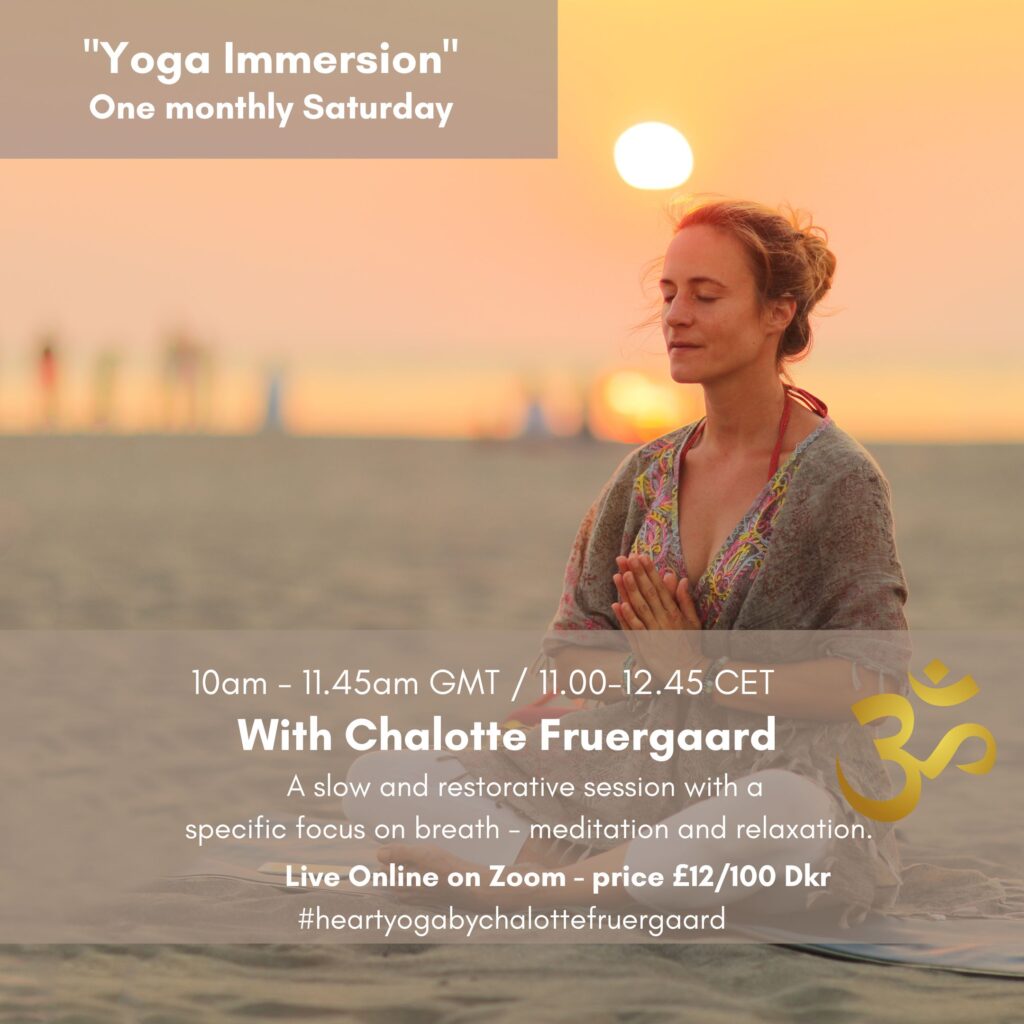 Join me for a series of yoga and meditation sessions every week: Tuesdays and Thursdays 7.30-8.30 am UK time 8.30-9.30 DK time Wednesdays 4.30-5.30 UK time 17.30-18.30 DK time.

CALM YOUR MIND – Meditate
SOOTHE YOUR SOUL – Mindful guidance
INVIGORATE YOUR BODY – Exercise and stretch your body

The yoga we will be doing is a gentle yoga that is suitable for all levels. You will melt into the mat and let your body adjust, open and heal. Have your own yoga mat with you, cushion and blanket and water.

About me: www.sophiainstituttet.dk (it is unfortunately in Danish – but nice pictures:-)). Yoga and meditation teacher – teacher of neuroscience and quantum physics.

"Chalotte's approach to yoga and meditation is unique – she creates a mesmerising, mindful space
– where people's worries melt, bodies relax and minds open up". Teresa Perez


PLEASE JOIN US IN OUR FACEBOOK GROUP: LIVE ONLINE YOGA AND MEDITATION WITH CHALOTTE INANNAH: https://www.facebook.com/groups/277307673289937/
MORNING SESSIONS
Tuesday and Thursday – at 7.30 am to 8.30 am GMT
8.30 – 9.30 CET/DK
HERE IS THE LINK FOR THE MORNING CLASSES:
Meeting ID: 830 7986 8716
Passcode: yoga
AFTERNOON SESSIONS
Wednesdays – at 4.30 pm to 5.30 pm GMT 5.30 pm to 6.30 pm CET/DK
HERE IS THE LINK FOR THE AFTERNOONS SESSIONS:
Meeting ID: 837 6118 4451
Passcode: yoga
Choose your payment plan
Copy and paste the link into your browser – write the password to enter the class.
If you like find some soft music to play on your own device
Be ready 5 min. before the start of the class.
PAYMENT PLAN:
Price: £6/ DKR 50/ €8 although if you have problems with this, please let me know.
£36/DKR 300/€40 pack of 6 Session.
#3FOR2 – Pay for 2 and do the 3rd of the week for FREE
Payment to be made through Paypal – paypal.me/ChalotteInannah OR Revolut (Charlotte Fruergaard – @sofiialgkt
Live Online Yoga
Planlagt: 13. sep. 2022 08.30 til 09.30, CEST
.
Lets stay aware and awake – lets connect!