It is my mission  to invite you to fully awaken the greatness in your body and to give you a solid sense of well-being in every corner of your cells.
Yoga has many physical and mind-related benefits which have now been scientifically proven. Things like less stress, reduced medication, greater flexibility, improved circulation, or a stronger, healthier body. These are some of the truly amazing benefits of yoga.
The true reason for the ancient yoga tradition is the reuniting of mind, body and breath through movement. In doing so you include all your resources and enhance the ability to infuse your invisible Soul Spirit into your physical body.
I wish for your all profound Self Awareness. One that is anchored into your body based on knowing the truth of who you are and not based upon the conditions of your external world.
Namaste
"These sessions are my offerings of love to you. Please provide your love offering via PayPal with euros, kroner or pounds.
Whatever works for you, no minimum or maximum limits!"
JOIN OUR MONTHLY
YOGA IMMERSION
I am designing monthly sessions for you to immerse into the depth of body & spirit.
The classes are slow and restorative with a specific focus on breath – meditation and relaxation.
Time:
10am – 11.45am GMT / 11.00-12.45 CET
To register:  send me an email: cf@chalottefruergaard and I will forward you the zoomlink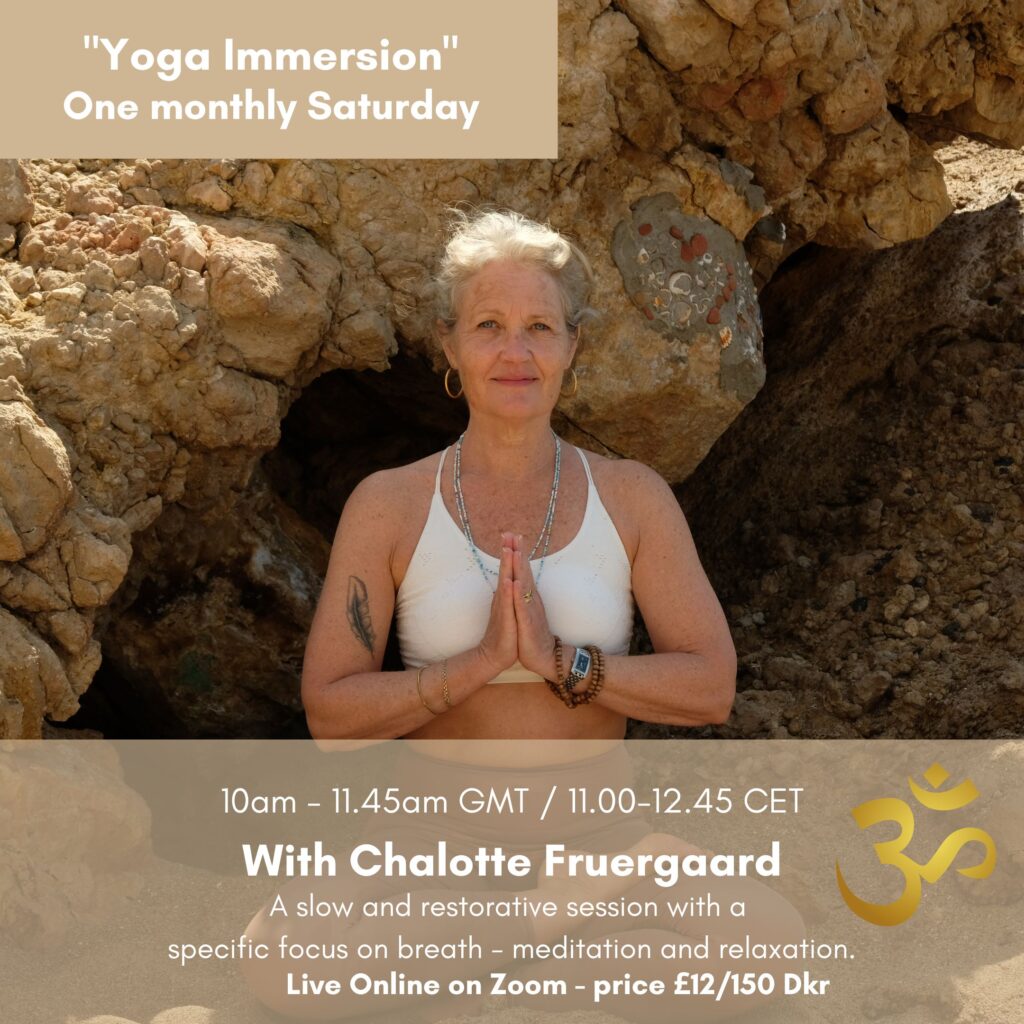 WEEKLY SESSIONS - NEW FORMAT
I am so happy to return to our Yoga Live Online sessions. I am grateful to everybody who has joined me in the last 4 years. Life has changed a lot for all of us and it is beautiful to see its unfolding. 
New Format: 
1 morning a week, always on a Thursday and 1 Saturday Yoga Immersion a month. 
Open to anyone regardless of experience, 
Looking forward to old and new faces, including pets.
How to register:
Send me a message to reserve your space
We will add you to the WhatsApp group "Practices for Living a Created Life" where the Zoom link will be posted.
You can then pay by Revolut: Charlotte Fruergaard – @sofiialgkt.Paypal: paypal.me/ChalotteInannah or Mobilepay (for Danish participants). 
Looking forward to meeting you all.
Love and Grace
Chalotte 

CALM YOUR MIND – Meditate
SOOTHE YOUR SOUL – Mindful guidance
INVIGORATE YOUR BODY – Exercise and stretch your body

The yoga we will be doing is a gentle yoga that is suitable for all levels. You will melt into the mat and let your body adjust, open and heal. Have your own yoga mat with you, cushion and blanket and water.

About me: I am a spiritual mentor, yoga and meditation teacher, relationship coach, public speaker and author. My teaching is informed by the wisdom of the ages, spirituality, neuroscience and Quantum Physics.
It is my mission to invite you to fully awaken the greatness in you and to give you a solid sense of peace and coherence in every corner of your cells, empowering you to become the creator of your own life.
My passion is to provide selfawareness and to expand what's possible, from healing to create the dreams of your life.

"Chalotte's approach to yoga and meditation is unique – she creates a mesmerising, mindful space
– where people's worries melt, bodies relax and minds open up". Teresa Perez


PLEASE JOIN US IN OUR FACEBOOK GROUP: PRACTICES FOR LIVING A CREATED LIFE
https://www.facebook.com/groups/277307673289937/
Lets stay aware and awake – lets connect!